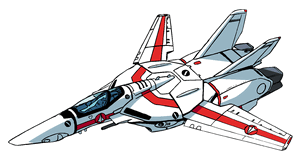 Shinnakasu Heavy Industry's VF-1J (the "J" speculated as a prideful designation of the fighter's region of origin) is an upgraded version of the standard VF-1, typically assigned to the senior officer of an air team or to a squadron leader. Unlike Stonewell/Bellcom's VF-1D, the VF-1J remains a single seat fighter but shares the slightly increased firepower of that variant. The new head unit of the VF-1J (developed by Kyuusei Industry) features two Mauler RÖV-20 anti-aircraft laser cannons in a slightly improved configuration. Naturally, when the Shinnakasu-designed GBP-1S "Armored" system was given first operational deployment, it was installed on a VF-1J.
Type
All-environment variable fighter and tactical combat battroid
Manufacturer
Shinnakasu Heavy Industries
Introduction
November 2007
First Deployment
February 7, 2009
Accommodation
Pilot only in Marty & Beck Mk-7 zero/zero ejection seat
Dimensions

Battroid Mode: height 12.68 meters; width 7.3 meters; length 4.0 meters
Fighter Mode: wingspan 14.78 (fully extended); height 3.84 meters; length 14.23 meters

'GERWALK Mode': wingspan 14.78 (fully extended); height 8.7 meters; length 11.3 meters

Mass
Empty 13.25 metric tons; standard T-O 18.5 metric tons
Structure
Space metal frame, SWAG energy converting armor
Power Plant
Two Shinnakasu Heavy Industry/P&W/Roice FF-2001 thermonuclear reaction turbine engines, output 650 MW each.
Propulsion
11,500 kg [x g] x 2; or 23,000 kg [x g] x 2 in overboost (225.63 kN x 2 overboost); 4 x Shinnakasu Heavy Industry NBS-1 high-thrust vernier thrusters; 18 x P&W LHP04 low-thrust vernier thrusters beneath multipurpose hook/handles.
Thrust-to-weight ratio
Empty 3.47; standard T-O 2.49; maximum T-O 1.24
Performance

Battroid Mode: maximum walking speed 160 km/h
Fighter Mode: at 10,000 m Mach 2.71; at 30,000+ m Mach 3.87
GERWALK Mode: maximum walking speed 100 km/h; flying 500 km/h

G Limit
in space +7
Design Features
3-mode variable transformation; variable geometry wing; vertical take-off and landing; control-configurable vehicle; single-axis thrust vectoring; three "magic hand" manipulators for maintenance use; retractable canopy shield for Battroid mode and atmospheric reentry; option of GBP-1S system, atmospheric-escape booster, or FAST Pack system.
Transformation

Min time from Fighter to GERWALK (automated): approx. 1.5 sec.

Min time from GERWALK to Battroid (automated): under 2 sec.

Standard time from Fighter to Battroid (automated): under 5 sec.

Min time from Fighter to Battroid (manual): 0.9 sec.

Armaments

Guns

2 x Fixed Mauler RÖV-20 anti-aircraft laser cannons, firing 6,000 pulses per minute each
1 x Howard GU-11 55 mm three-barrel Gatling gun pod with 200 rds fired at 1,200 rds/min

Bombs & Missiles

4 x underwing hard points for 12 x AMM-1 hybrid guided multipurpose missiles (3/point)
or 12 x MK-82 LDGB conventional bombs (3/point)
or 6 x RMS-1 large anti-ship reaction missiles (2/outboard point, 1/inboard point)
or 4 x UUM-7 micro-missile pods (1/point) each carrying 15 x Bifors HMM-01 micro-missiles
or a combination of above load-outs

Optional Armament

Shinnakasu Heavy Industry GBP-1S ground-combat protector weapon system
or Shinnakasu Heavy Industry FAST Pack augmentative space weapon system
Ad blocker interference detected!
Wikia is a free-to-use site that makes money from advertising. We have a modified experience for viewers using ad blockers

Wikia is not accessible if you've made further modifications. Remove the custom ad blocker rule(s) and the page will load as expected.