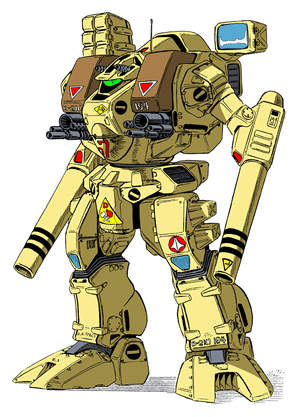 The first of the MBR-04 series Destroids, the Tomahawk Mk I entered service in February 2007. Conceived as a non-variable combat robot designed to counter giant-sized infantry, the Tomahawk was built using OverTechnology taken researched from the crash of the alien space craft known as the SDF-1 Macross in 1999. Once successfully tested, the Tomahawk became the basis for three other Destroid types and the improved Tomahawk Mk VI quickly followed in late 2007.
The Tomahawk Mk VI is the most heavily armed Destroid of the MBR-04 series and the most widely deployed model. Of the nearly 600 hundred Destroids aboard the SDF-1 Macross in February 2009, over 500 were Tomahawk Mk VI units. Armed with a wide array of weaponry suited to nearly any combat operation, the Tomahawk features particle cannons, missiles, machine guns, lasers and flamethrowers to unleash fire in any role from anti-personnel to anti-aircraft. The Mk VI version also features a retractable periscope and includes the option of mounting searchlight/missile packs in one or both mounts on either side of the top weapons bays.
Type
Main battle robot, series 04
Manufacturer
Viggers/Chrauler
Introduction
February 2007
First Deployment
Unknown
Accommodation
Pilot only
Dimensions
Height 12.7 meters (overall), 11.27 meters (up to head unit); length 5.1 meters; width 7.9 meters
Mass
31.3 metric tons
Structure
Unknown
Power Plant
Kranss-Maffai MT808 thermonuclear reactor developing 2800 bhp; auxiliary generator GE EM9G fuel generator rated at 450 kW
Propulsion
Multiple low-thrust vernier thrusters beneath multipurpose hook/handles.
Thrust-to-weight ratio
Unknown
Performance
Unknown
G Limit
Unknown
Design Features
Removable weapons bays; searchlight option pack; retractable periscope telescope
Transformation
N/A
Armaments

Guns

2 x Mauler PBG-11 liquid-cooled electrically-charged particle beam gun
2 x Ramington M-89 12.7 mm air-cooled MG

2 x Astra TZ-III gun cluster with each cluster featuring the following: 1 x laser gun, 1 x 25 mm MG, 1 x 180 mm grenade launcher, 1 x flamethrower

Bombs & Missiles

2 x Bifors close-in self-guided rocket launchers with 12 rockets per launcher (24 rockets total)
1 x Erlikon anti-aircraft self-guided missile option pack with 6 missiles

Optional Armament
Ad blocker interference detected!
Wikia is a free-to-use site that makes money from advertising. We have a modified experience for viewers using ad blockers

Wikia is not accessible if you've made further modifications. Remove the custom ad blocker rule(s) and the page will load as expected.